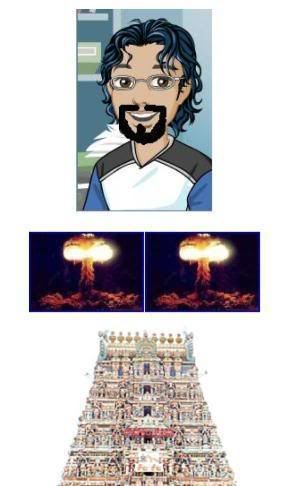 Nuke Mylapore
Many many people have questioned my rationale behind my
nuking mylapore
. I strongly feel that an act as benevolent as this one doesn't need reasoning. Like Kamal said in
Nayakan
-
Naalu perukku nalladhu nadandha thappillai
. Who are the four people - me, and there would be three more people for sure.
If this reason isn't good enough, here are a few more:


The sheer capillary-mindedness of most of the mylaporeans

Now, that isn't fair. Most mylaporeans I know are cheerful young liberals, a tad too idealistic, but very very agreeable.

I grew up in Mambalam, a lower-middle class water-starved tambram locality united by moderate povertyof the eighties, and I hated the rich snobs from Mylapore, especially those that went for tennis classes and swimming classes in summer. Those high society children from P.S. Senior secondary school who used to talk about the cricket coaching classes in school were my childhood's

bete noire

The clean sweeping roads where children played cricket with tennis balls in mylapore were in sharp contrast to the narrow, dirty and crowded lanes where i played with rubber balls.

Gradually, after sporting interests gave way to more prurient adolescent pursuits, my obsessive hatred of tennis-ball clad mylapore bourgeoiese faded away to obscurity, i.e. until recently


Such capillary-minded people's views on what is right and what is wrong makes me puke all over their cultured asses. Over time, I have come to make a generalisation, a false one at that, that mylaporeans are a bunch of prude, cynical, pot-bellied people who take pride in their pot-bellied genetically-restrictriced pedigree. So? sue me!



The conservative views of an uneducated man from Tanjavur on culture, philosophy and life are understandable(no condescension here).The same views coming from an educated 40 year old
mama
makes you wonder if these things are for real.